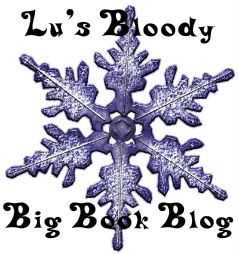 Today I have fellow South African, Lu with me in the interview spot. I met Lu through a South African Goodreads group that she runs beautifully. A very busy lady.
Welcome Lu!!
Please tell us a little about your blog.
Lu's Bloody Big Book Blog is a place where I can post my reviews, discuss book to movie news, have fun discussions and generally express myself.
How did it all start? And how long has it been?
I started blogging on the 7th October, can you believe its only been 2 months? It feels like forever!
Someone linked their personal blog on Goodreads once and I thought it was a good idea! So then I made one, and a week later had the idea for a archaeology blog. Then about 2 months later I came across a book blog and through it was a brilliant idea! And the addiction started :)

How much time and energy do you put into your blog?Do you enjoy doing memes and if so, which ones can be found on your blog?
I put at least 2 hours a day into my blogging. More reading other peoples blogs that posting, but I like commenting on others posts :)
I do enjoy certain meme's. Blog Hop Friday is a nice way to stop by all your favourite blogs and Waiting on Wednesday is a great way to find new books out there!

How would you describe your review style and how do you handle reviews when you didn't enjoy the book?
I try and make my reviews easy to navigate. You can see my rating, my spoilers, my take etc. all separated by headings. No need to search for what you are looking for.
When I didn't enjoy a book I try and be honest in a way that I don't bash the author. I know its hard work writing a book so I try not to be too negative :)

What can we expect from you in the future?
More reviews, more chats and more giveaways!
What advise would you give new book bloggers out there especially bloggers outside of the US that do not have easy access to new releases.
Keep at it!
And if you struggle with new releases, I suggest Bookdepository!

Thanks for having me today Chrizette!
Thank you for taking the time, Lu. It was wonderful having you here! You can find Lu's Bloody Big Book blog here.
If you want to be featured in my little interview spot, send me an email through the CONTACT ME page and I will get back to you as soon as I can.