I asked Kathy of "I am a reader, not a writer" to join us today. Kathy is hosting the Gratitude Giveaway that starts on Wednesday, don't forget to join in the hop! This is what she said: "The Gratitude Giveaways is a blog hop I organized. There are over 170 blog each signed up to host a giveaway. It starts this Wednesday so stop by to enter all the giveaways." We certainly will, Kathy!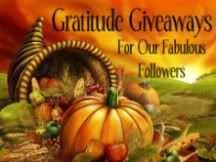 Kathy, please tell us a little about your blog.
I Am A Reader, Not a Writer is an eclectic blog reviewing many different kinds of books: Fantasy, Fairy Tales, Clean Romance, Historical Fiction, Science Fiction, Christian, LDS and anything else that is clean, uplifting or entertaining.
I review everything from picture books to adult books and include content information for parents and conservative reader.
I also host giveaways - Lots of them! (which I love, Kathy – don't stop!)
How did it all start? And how long has it been?
I debated starting a book blog for months. I had been using Goodreads for nearly 2 years to review books and keep track of my to-read list and was following a few book blogs. I started using my personal blog to do a little bit of book blogging. One day I realized posts about books were starting to take over my personal blog. I kept thinking I should just take the plunge and start a dedicated book blog but I don't consider myself to be a fabulous book reviewer or writer and I didn't think anyone would want to read my reviews. When the idea didn't go away I finally found a blog title that fit me (I Am A Reader, Not A Writer) and started blogging.
My first blog post was exactly 5 months ago today on June 14th. For the first 2 months all I did was review books. I then started reaching out to other bloggers, participating in memes and hosting giveaways.
Do you enjoy doing memes and if so, which ones can be found on your blog?
In My Mailbox is one I faithfully take part in. I have also done the Friday Blog Hop & Follow fairly regularly. The other memes are hit and miss depending on how busy I am: Waiting on Wednesday & Children's Book Wednesday are two I really enjoy. On my blog I have a couple features I started: Nearly New Books For You & Got Great Giveaways.
How much time and energy do you put into your blog?
A lot! I try to post at least a couple of times each day. I'm not someone who does something half way. That is both a strength and a weakness. Currently I'm completely overextended with the number of books I've committed to read and my blogging to do list is pages long. It's hard for me to balance. If I spend too much time blogging I don't have enough time to read. Kind of defeats the purpose!
I read a lot! I've read or listened to over 200 books this year. Thankfully being a mother to 5 kids means I'm a good multi-tasker. Audiobooks make up about 1/4 to 1/3 of the books I "read" each year. I'm able to do dishes, laundry and housework while being absorbed in a good book.
I'm on track to hit my goal of 240 books in 2010. My goal for 2011 is going to start out at a much more reasonable 150 books for the year.
How would you describe your review style and how do you handle reviews when you didn't enjoy the book?
My reviews are short and simple. I rate the books based on a 5 star rating system. I hate spoilers so I try not to include any in my reviews. I tell a little about why I liked the books and include any content that parents and conservative readers may find objectionable. When I don't love a book I try to point out what I did like. If it's really bad I usually don't finish it and don't post a review.
What can we expect from you in the future?
Lots more reviews, giveaways and giveaway hops!
Starting December 6th I'm taking part in a Best Books of 2010 event called The Best I've Read 2010. There are 9 bloggers participating and we will each feature interviews, guest posts and giveaways on our sites. Between us we will have at least 100 winners who will win a copy of one of the best young adult books of 2010!
Then coming December 21st will be a quick 2 day Midwinter's Eve Giveaway Hop.
In the next couple months I'm also participating in 4 other events organized by other bloggers.
What advise would you give new book bloggers out there?
Be yourself and let it show through on your blog. There are thousands of book blogs out there - do something to stand out.
Give readers a reason to come back to your blog. Get out there and bring the readers to you...don't expect them to come to you. Comment on other blogs, take part in memes, host giveaways, network with another blog, use goodreads, etc. And most importantly, have fun!!
Visit Kathy's blog for lots of fun and giveaways:
Thank you so much, Kathy. WE LOVE YOUR BLOG!!